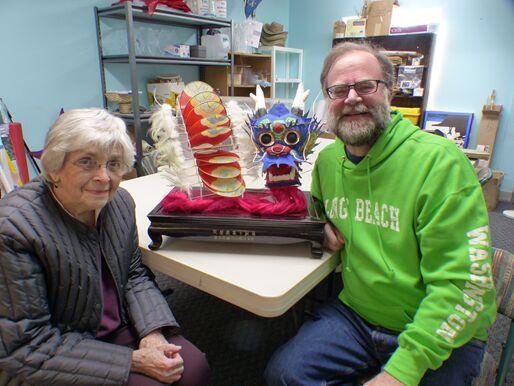 Nearly 40 years ago Jim Mockford met Long Beach Peninsula's resident kite icon, Kay Buesing.
His memories of their friendship were so powerful, he wanted to do something special to honor the former executive director of The World Kite Museum after she died at age 86 in February. The author has chosen to donate several of his books to the local community to keep her legacy alive.
"Kay had a great amount of energy," said Mockford, reminiscing about their bond. "You might call her the Wonder Woman of the kite world."
Mockford became acquainted with Buesing and her husband, Jim, through interactions at festivals and at the kite shop the couple owned in Long Beach, Washington. However, he says they formed a close connection years later at the American Kitefliers Delegation at the Weifang International Kite Festival in 1987 in China.
"What an awesome time," said Mockford, who ended up winning Weifang's prestigious dragon kite trophy.
Mockford and the Buesings were part of a group of five that traveled to the festival to represent Washington. He says traveling by bus and train together throughout China was a bonding experience.
"You really get to know your companions when you're so far from home," said Mockford. "In subsequent years, Kay and I would run across each other at kite flying events and of course, at The World Kite Museum."
The Buesings were members of a dedicated core of kite devotees on the Long Beach Peninsula who banded together to create The World Kite Museum. Jim Buesing secured the property, and the widow of local kite enthusiast David Checkley donated his collection of 700 Japanese, Chinese and Malaysian kites to create the exhibits. Today, the museum displays a collection of 1,500 kites from 26 countries.
"Kay was not content to be just another person who owned a kite store," Mockford said. "She took a leading role in the museum, organizing and promoting the collection and festivals. She knew everyone and was doing really amazing, remarkable things. She soon became the go-to person, working a kind of worldwide kite diplomacy, and put Long Beach front and center in the international kite community. For Kay, being involved in every aspect of the festivals and the museum was her life."
A memorial for Buesing was planned for the Washington State International Kite Festival in 2021, but was canceled due to the coronavirus.
"But I wanted to do something," Mockford said. "I thought sharing my love of kite flying, as illustrated in 'The Kite That Touched the Sky,' would encourage and help children know the joy that we both knew so well."
Mockford donated his children's book, "The Kite that Touched the Sky," to the Pacific branches of the Timberland Regional Library.
Alexis Hood, library assistant at the Ilwaco branch, said Mockford simply walked into the library with his books and asked what the process might be to make them available to young readers.
"We were certainly excited about it," Hood said. "The book has beautiful illustrations of our local area that kids will be sure to recognize. It's a book that needs to be in our community."
Mockford's intergenerational storybook was inspired by his four grandchildren, two of whom live in China, and all of whom he calls the "newest generation of kitefliers." The book exemplifies that kite flying knows no cultural boundaries. It is available in both Chinese and English languages.
After a month of library system processing, "The Kite That Touched the Sky" is now in circulation in the library children's sections at Ilwaco, Ocean Park, Naselle, Raymond, South Bend and Shoalwater Bay.