Since closing its doors to regular customers in mid-March because the coronavirus pandemic, Blaylock's Whiskey Bar owners Michael Angiletta, Ben Thompson and Cory Teubner haven't been able to enjoy the bar's usual celebrations.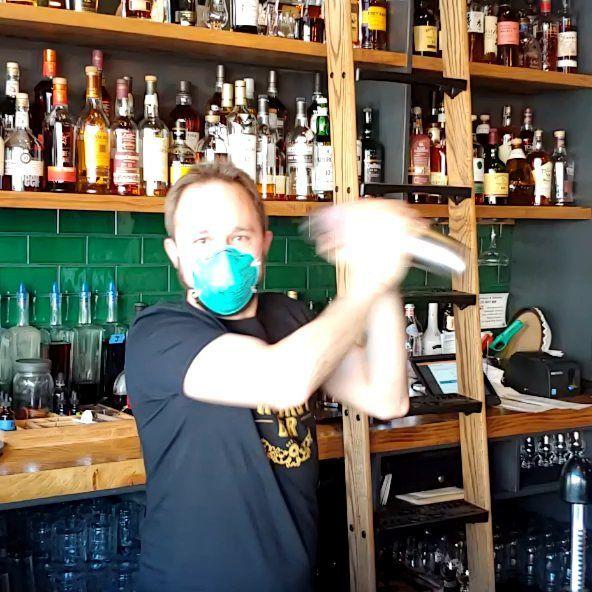 The bar, which won Coast Weekend's 2019 Readers' Choice Awards for best bar, server and cheap date, is keeping positive through a semi-weekly take-out event where it partners with local chefs to offer entrees, desserts and drinks. The event offers a variety of what Blaylock's calls 'mocktails,' which feature drinks like margaritas.
"What we wanted to do was give people an option to take a mix home and have a really easy drink," Teubner said. "We figured we could do a one-up on the terrible mixer jugs you can find in grocery stores, and wanted to maintain interest in the business since everything's in limbo right now."
Teubner has ideas for how you can make satisfying libations at home. 
Making homemade cocktails
To start, gather tools including a sharp knife, something to either shake or stir a cocktail in and a fine-mesh strainer.
"From there, the world is your oyster," Teubner said. "You can decide one of two things. Either decide what alcohol you want to drink, then what ingredients you want to incorporate, or do the opposite and start with an ingredient you want to work with."
Finding ingredients to incorporate into cocktails can come from buying locally-made spices or foraging for fresh ingredients that can be infused.
"For example, the other day, I was out doing some wild foraging near my house and was able to find some green pine cones, elderflowers and spruce tips," Teubner said. "I made an infusion that's great with gin."
Vodka is another alcohol that works well with experimenting with flavor profiles, Teubner said.
"Just walk around your neighborhood. I'm sure you can find anything from fresh rosemary growing in your yarn, lavender, violets, even things like black licorice ferns," Teubner said. "That's really the best way to start, find something that smells good and isn't toxic."
Most cocktails use a citrus base. When using a fruit, Teubner suggests using the whole fruit by saving the peels to create limoncello or orangecello, or to make candies. Another tip is to pre-squeeze lemons and limes four to five hours ahead of using the fruit.
"Don't be afraid to muddle ingredients into oblivion," Teubner said. "People always say 'Oh, you're killing it' but that's where the flavor is and that's what strainers are for."
Another tip for incorporating fruit into cocktails is to use berries as a garnish or to create syrups to mix into drinks.
"Try combinations, you never know what you're going to get. Maybe catnip, sprucetips and lemon might make something good, who knows?" Teubner said.
A final ingredient to consider adding to cocktails are eggs, Teubner said.
"They can make a drink frothy and silky. The yolk or whites can be used alone or used at the same time. Don't be afraid of an egg," Teubner said.
When making a cocktail, one of Teubner's most important suggestions is to not give up.
"Just because you make some kind of infusion that doesn't work, don't throw it out," Teubner said. "I usually have three or four of something that I make that aren't what I want. Don't kick yourself if what you make doesn't turn out the way you want."
One way to use an infusion that doesn't work, is to look for another ingredient that'll add a finishing touch to the drink.
Combinations to try
When using whiskey, Teubner suggests adding flavors like caramel, honey, heather, vanilla or toffee. Another combination to try is dark chocolate and orange with whiskey, which can be made using cacao nibs and orange peels.
Gins can pair alongside rosemary, thyme and lavender, since gin has a "botanical herbiness," Teubner said.
"I love pairing herbs and floral things with gin and more carmel flavors with whiskey," he said.
For rum, Teubner suggests using citrus as a pairing. And for those who want to try a homemade Fireball-like drink, Teubner suggests putting a cinnamon stick and pepper into whiskey for a while to infuse. 
"Be adventurous and try things. Try different ingredients you've maybe never ingested or worked with," Teubner said. "It's all about experimenting."